Double your closet storage space instantly with the magic closet clips!
They help utilize vertical storage space, giving you twice the space without a closet twice as big!
Simply attach the clips to your regular hangers to start stacking your clothes vertically and have more room for clothes in just a couple of minutes!
Perfect for smaller apartments and closets!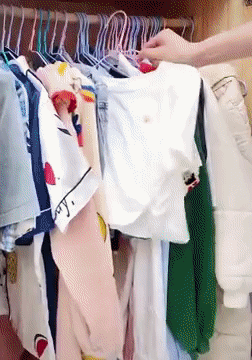 Plan your daily wear by stacking matching top, bottom, handbag and accessories together so you don't have to think of what to wear when heading out.
Strong & Durable. Made with solid ABS material, you can stack up to as many clothes as you need without worrying about the clips breaking.
You can stack multiple heavy clothes and jackets and the clips will not deform.
The magic closet clips are multi-functional, It also can be used as a belt, baby clothes hanger hook, handbag holder and more!